PRODUCT CATEGORY

Product center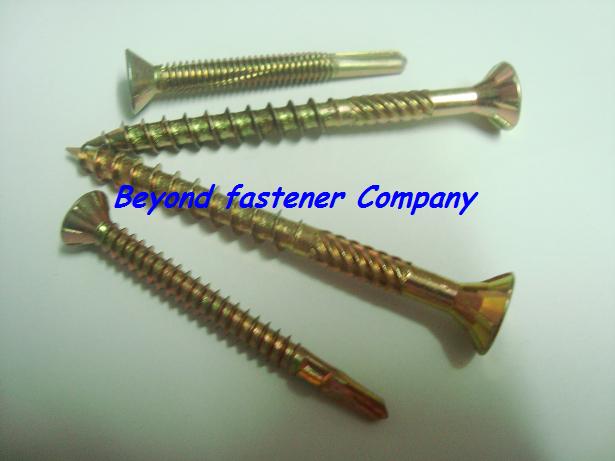 4 F/W TEK SCREW
Beyond fastener can produce special screws ,with serration and wings at the end of point ,it can drill and tighten sooner ,especially the point --No.5 ponit can drill and tight thicker sheets ,then it can offer you more and more convenience .
Standard: IFI,DIN,JIS,GB,Special Design
Material: SUS302/304/305/316/410... Carbon steel: C1006/1008/1018/1022/10B21...
Size Range: M2.9-M6.3(4#-14#)
Length Range: 13mm-300mm

HEAD TYPE 
FLAT
PAN
HWH
HWF
BUGLE
WAFER
PAN WASHER
OVAL
FLOWER
TRUSS
ROUND
DRIVE 
 
 
 
 
 
 
 
 
 
PHILLIPS
SQUARE
POZI
SQUARE+PHIL
TORX
SLOTTED
PHIL+SLOTTED
OTHER
POINT TYPE 
TEK#1
TEK#2
TEK#3
TEK#4
TEK#5
TYPE 17
THREAD TYPE 
TYPE-A
BSB TYPE
CSB TYPE
HI-LOW
MACHINE
DOUBLE
OTHER
10#-12 THD
6#-20 THD
8#-32 THD
12#-11 THD
7#-19 THD
10#-24 THD
14#-10 THD
8#-18 THD
12#-24 THD
 
10#-16 THD
14#-20 THD
PLATING
PLAIN
ZINC PLATED 
COLOR ZINC PLATED
BLUE ZINC PLATED
BLACK PHOSPHATE 
GRAY PHOSPHATE
BLACK ZINC PLATED 
WHITE ZINC PLATED
BLACK OXIDE
DECROTIZEO
RUSPERT
XYLAN
NICKEL
BRONZE
SPRAY PAINT
OTHER
ADDITIONAL REQUEST 
SERRATION UNDER HEAD
W / O WASHER 
W / BONDED WASHER 
W / PVC WASHER
W / STEEL EPDM 
W/RUBBER WASHER
W / HEAD MARK
W / WING
SLOTTED + WING
OTHER
Copyright @ All rights reserved. Supported by Beyond industry groups Ltd